Valley Transmission & Auto Repair:
Your Top Choice for Engine Repair in Victorville, CA
Welcome to Valley Transmission & Auto Repair, your premier destination for all your engine repair needs in Victorville, CA. With over 35 years of experience, our team of skilled auto mechanics is dedicated to providing high-quality engine work that is second to none. Whether you need a simple tune-up or a complex engine repair, our experts are here to ensure that your vehicle is performing at its best. You can trust us to keep your engine running smoothly and efficiently.
Comprehensive Engine Repair Services
At Valley Transmission & Auto Repair, we offer a wide range of engine repair services tailored to meet the unique needs of every vehicle that enters our shop. Our team is well-equipped to handle everything from minor engine maintenance to major repairs. Our services include, but are not limited to:
Engine Diagnostics:

Our state-of-the-art diagnostic tools allow us to accurately assess any engine issues you may be experiencing. We will quickly identify the problem and provide you with a detailed explanation of the necessary repairs.

Engine Tune-Up:

Regular engine tune-ups are crucial to maintaining the performance and longevity of your vehicle. Our skilled technicians will inspect and adjust all essential components of your engine, ensuring optimal performance and fuel efficiency.

Engine Overhaul:

When your engine requires significant repairs, an overhaul may be necessary. Our experts will disassemble, inspect, and rebuild your engine utilizing top-quality parts and industry-leading techniques to restore it to peak performance.

Cylinder Head Repair:

Problems with your cylinder head can lead to decreased engine performance and reliability. Our technicians are skilled in repairing and replacing cylinder heads, ensuring that your engine operates smoothly and efficiently.

Engine Rebuilding:

If your engine is beyond repair, our team can provide full engine rebuilding services. We will meticulously disassemble and rebuild your engine using only the highest quality parts, ensuring that it operates like new.

Timing Belt Replacement:

Regular timing belt replacement is essential to prevent costly engine damage. Our skilled technicians will inspect your timing belt and replace it if necessary, ensuring that your engine remains properly synchronized.
Unmatched Expertise and Customer Service
At Valley Transmission & Auto Repair, we take pride in our team of highly skilled auto repair technicians who are well-versed in the latest engine repair techniques and technologies. We also invest in ongoing training to ensure that our experts stay up-to-date with the ever-evolving automotive industry. So you can trust our professionals to accurately diagnose and effectively repair any engine problem your vehicle may encounter.
We also understand that engine repairs can be stressful, which is why we strive to provide exceptional customer service throughout your entire experience with us. From the moment you contact us until the completion of the job, our friendly staff will be there to address your concerns, answer your questions, and provide timely updates on the progress of your engine repair. Your satisfaction is our top priority.
Why Choose Valley Transmission & Auto Repair?
Experience: With over four decades of experience, our knowledgeable team has seen it all. There's no engine repair too big or too small for us to handle.
Quality Parts: We believe in providing lasting solutions, which is why we only use top-quality parts that are backed by industry-leading warranties.
Competitive Pricing: We understand the importance of affordability. That's why our transparent pricing ensures that you receive fair and competitive rates without compromising on the quality of our work.
Trust and Reliability: Our reputation is built on trust and reliability, which is why we strive to foster long-lasting relationships with our customers by providing exceptional fleet repair service and exceeding their expectations.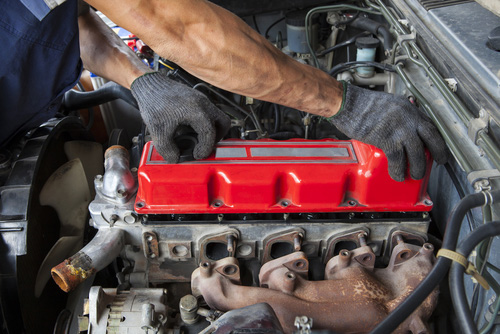 Contact Us Today for Engine Repair in Victorville, CA
So if you're in need of professional engine repair services in Victorville, CA, look no further than Valley Transmission & Auto Repair. Our dedicated team is committed to delivering the best engine work for your vehicle, ensuring that you get back on the road with confidence. Just contact us today to schedule an appointment or to learn more about our comprehensive engine repair services. Your engine will be in good hands!